Sustiva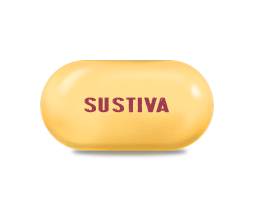 Sustiva is an antiviral medication which is used to treat human immunodeficiency virus (HIV) which causes the acquired immunodeficiency syndrome (AIDS).
Active Ingredient: efavirenz
Availability: In Stock (71 packages)

Free standard Airmail shipping for all packages with price starting from
$200.00
Sustiva, 600mg
| Package | Per Pill | Per Pack | Order |
| --- | --- | --- | --- |
Sustiva, 200mg
| Package | Per Pill | Per Pack | Order |
| --- | --- | --- | --- |
Sustiva (Efavirenz)
General information
Sustiva belongs to a class of drugs known as non-nucleoside reverse transcriptase inhibitors. It is used with a combination of other anti-HIV drugs to treat the infection caused by the human immunodeficiency virus (HIV). HIV is the virus responsible for acquired immune deficiency syndrome (AIDS). It helps to decrease the amount of HIV in your body so your immune system can work better. It also lowers your risk of getting HIV disease complications. Sustiva is not a cure for HIV infection and it does not prevent the spread of HIV to others through sexual contact or blood contamination. It may also be used with other medications to prevent HIV infection after contact with the virus.
Directions
Take Sustiva exactly as prescribed by your doctor. The recommended dose for treating HIV or AIDS in adults and children is 600 mg once daily preferably at bedtime taken in combination with other anti-HIV (antiretroviral) drugs. The tablets should be swallowed whole with a full glass of water. The daily dose is best taken before bedtime to reduce problems associated with potential nervous system side effects. This medication should ideally be taken on an empty stomach (2 hours after a meal). Taking Sustiva with food increases the blood level of this medication, which may increase your risk of certain side effects.
Precautions
Before taking Sustiva you should talk with your doctor if you have seizures, epilepsy, high cholesterol, triglycerides, liver disease, liver failure, cirrhosis, hepatitis, any allergies. This drug may make you dizzy or drowsy or cause trouble concentrating. Do not drive or perform tasks that require alertness. Avoid alcoholic beverages. Alcohol can increase some of the side effects. Avoid having unprotected sex or sharing needles, razors, or toothbrushes. Taking this medication will not prevent you from passing HIV to other people.
Contraindications
You should not take Sustiva if you are allergic to it or any ingredients of the medication, are pregnant or breastfeeding.
Possible side effect
Get emergency medical help if you have fever, sore throat, headache, red skin rash, nausea, stomach pain, loss of appetite, dark urine, jaundice (yellowing of the skin or eyes), chills, body aches, flu symptoms, dizziness, trouble sleeping, drowsiness, unusual dreams, muscle or joint pain, trouble concentrating, hallucinations, nervousness, nausea, vomiting, stomach pain, diarrhea, constipation, swelling of the face, tongue, throat, trouble breathing, peeling skin, itching. If you notice other effects not listed above, contact your doctor.
Drug interactions
Tell your doctor about all other medications you use, especially: HIV medicines (nevirapine, ritonavir, indinavir, atazanavir), seizure medications (carbamazepine, phenytoin), heart or blood pressure medications (nicardipine, verapamil, nifedipine, amlodipine), antibiotics (rifampin, clarithromycin, rifabutin), blood thinners (warfarin), voriconazole, sirolimus, tacrolimus, antifungal medications (fluconazole, ketoconazole, itraconazole), cyclosporine, benzodiazepines (clobazam, triazolam, lorazepam, midazolam), ergot medications (ergotamine, dihydroergotamine, bromocriptine), hormonal contraceptives, narcotic medications (methadone, levomethadyl). Interaction between two medications does not always mean that you must stop taking one of them. Tell your doctor or prescriber about all prescription, over-the-counter, and herbal medications you are taking.
Missed dose
Take the missed dose as soon as possible. Skip the missed dose if it is time for your next scheduled dose. Don't take extra medicine to make up the missed dose.
Overdose
If you think you have overdosed the medicine seek emergency medical help at once. The overdose symptoms are confusion, lack of balance or coordination, severe mood or behavior changes, or thoughts of suicide.
Storage
Store the medicine at room temperature between 68-77 degrees F (20-25 degrees C) away from light and moisture. Do not store the drugs in the bathroom. Keep all drugs away from reach of children and pets.
Note
The information presented at the site has a general character. Note please this information cannot be used for self-treatment and self diagnosis. You should consult with your doctor or health care adviser regarding any specific instructions of your condition. The information is reliable, but we concede it could contain mistakes. We are not responsible for any direct, indirect, special or other damage caused by use of this information on the site and also for consequences of self-treatment.
Packaging info
Your order will be packed safely and secure and dispatched within 24 hours.
This is how your parcel will look like, the images are photographs of real shipments.
It has the size of a normal protected envelope and it does not disclose its contents.